A hailstorm lashed Can Loc district in Ha Tinh Province May 25, killing a person, blowing off the roofs of 300 houses, and damaging hundreds of hectares of rice and other crops.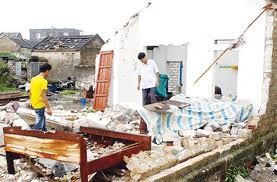 (Photo:SGGP)
The mountainous Vu Quang district was also hit  by a storm and heavy rains, which blew the roofs off 40 houses and swept away rice, corn, and other crops on hundreds of hectares.
A third storm that Son Truong commune in Huong Son District the same day destroyed the roofs of 50 houses and 15 hectares of crops.
A day later authorities in Huong Son were directing workers who were helping people repair their houses and providing relief to victims.