Even as the 'Haima' typhoon continues to move towards the Leizhou Peninsula of China, another new tropical depression brews along the south of Luzon Island of the Philippines.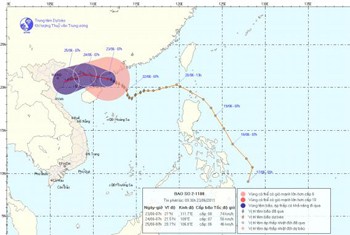 The direction of 'Haima' typhoon is uncertain with the appearance of a new tropical depression on Philippine waters
Bui Minh Tang, director of the National Hydro Meteorological Forecasting Center said that the new tropical depression will turn into a storm by tomorrow and may be so strong that it could unleash its fury in a manner so as to change the direction of the 'Haima' typhoon.
After weakening into a low pressure zone along the border areas of Vietnam and China, 'Haima' may become part of the depression to intensify into another tropical low pressure system, which will affect areas between Quang Ninh and Quang Binh provinces.
The Central Steering Committee on Flood and Storm Prevention held an urgent meeting yesterday to discuss measures to cope with the 'Haima' typhoon, which will cause torrential rains in northern Vietnam by the afternoon.
At 10 am this morning, the storm was centered at 360 kilometers east of Mong Cai Border Gate in Quang Ninh Province. Its wind gales measured level 8 to move at 62-74 kilometers an hour.