Unimaginable scenes were seen in the capital city of Hanoi yesteday as record downpours that began in the early hours of Friday flooded streets to heights of up to 1.5meters.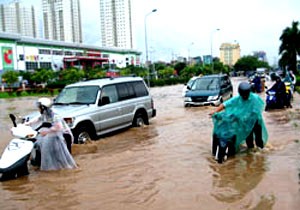 Streets were flooded with water yesterday in Ha Noi.
Two people have died and two students reported missing so far in the worst flooding to hit the city in 24 years. 
Water levels in lakes rose high and overflowed on to the streets causing thousands of bikes and other vehicles to breakdown, and traffic continued to be jammed until midnight in many areas.
With the Ha Dong 220 kv station flooded, the city had to cut off power supplies to Ha Dong district and other areas in Ha Noi for safety reasons.
Until nine pm last night, the rainfall level was over 300mm and even 450mm in  Ha Dong Town, while the city's drainage capacity was just 100mm a day.
As water levels in rivers and lakes rose up quickly, from 1.5 to two meters above the first danger level. Water levels in the Guom Lake overflowed on to Le Thai To and Hang Khay Streets.
"This is a combination of cold air and converging wind. It has rained mainly in Ha Noi and the red river delta", Director of the Central Hydro-Meteorological Forecast Center, Bui Minh Tang told Sai Gon Giai Phong.
Today, the rain will move to the midland areas of north Vietnam, he said.
The National Athletics Meet scheduled to take place yesterday has been delayed.
Last yesterday night, the Ha Noi People's Committee sent emergency directives to district authorities and other agencies to focus on coping with flood waters and take measures to secure people's lives, resolve traffic gridlocks and restore power supplies.