The thunderstorm that hit Ho Chi Minh City on April 16 knocked over trees, signboards, walls, and fences around the city.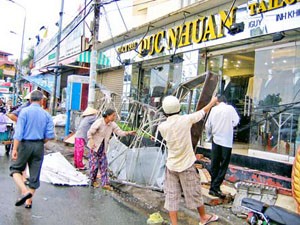 One of the signboards that collapsed in the heavy rain and winds that lashed HCMC City on April 16 (Photo: SGGP)
Tree branches crashed down on Nguyen Dinh Chieu Street, 30-4 Park, and Hung Vuong Street in Districts 1, 3 and 5 as heavy rains and strong winds lashed the area from 2.30 to 3 in the afternoon.
A 10-meter-tall tree fell at the junction of Vo Van Tan and Nguyen Thuong Hien Streets, District 3, causing a traffic jam.
Power had to be switched off in the area as a precaution.
Trees and branches also fell along main roads in Go Vap, Tan Binh, and Phu Nhuan Districts.
At the Dien Bien Phu-Nguyen Binh Khiem junction, the wind blew two billboards on to the street; fortunately, no one was hurt.
It also knocked over a fence along the Nhieu Loc – Thi Nghe canal construction site and a wall around an empty piece of land in Ngo Tat To Street, Binh Thanh District.
The wall collapsed upon 10 nearby houses knocking over their fences and walls or causing them to crack.
Local residents said the wall was close to collapse and the land belongs to Vuon Pho Limited Company.
Local authorities and company representatives arrived to clean up the area and check the damages caused to people's houses.
More thunderstorms and rains are expected in the southern region until May, the Southern Regional Hydro-meteorological Center forecast.
In the next ten days the monsoon is expected to set over the region, it added.