The southern provinces and Ho Chi Minh City are going to suffer the bad weather phenomenon of medium- heavy rains, thunderstorms, powerful wind and cyclone on the large scale in the evenings due to range of intertropical convergence in companied with the strong operation of the southwest monsoon, warned the National Hydrology Meteorology Forecast Center.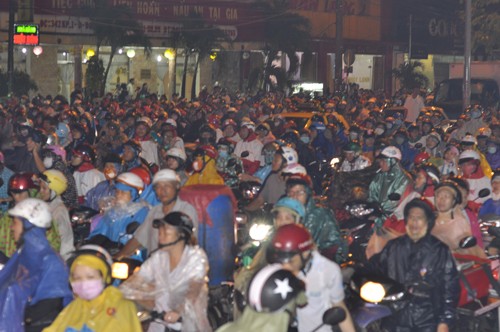 Heavy rain in companied with flood tide causes serious flooding and traffic jam. (Photo:SGGP)
From October 3, the intertropical converge range continues operateing stronger. In addition, wind convergence zone will appear in the center of the East Sea causing medium- heavy rains on the large scale in the southern region.
By October 5- 6, high- pressure area of continental clod air masses continues moving into the southern region.
Heavy rains in companied with high tide will cause heavy flooding and traffic jam on the large scale in the lower areas near small rivers and canals in district 2, 7, Binh Thanh, Thu Duc and Nha Be districts in the evenings.