Prolonged heavy rains boosted a faster rise of flood level on local rivers in the northern and northern central provinces, killing seven people and missing one.
According to the Steering Committee for Natural Disaster Prevention and Search and Rescue of Hoa Binh province, heavy rains made a landslide from the midnight of Saturday to Sunday causing interrupted traffic in Dong Bang commune of Mai Chau district, Hoa Binh province during an hour.
By evening Sunday, vehicles might access through the National Highway 6.
Traffic at seven communes along National Highway 6 still were interrupted due to faster rise of flood level.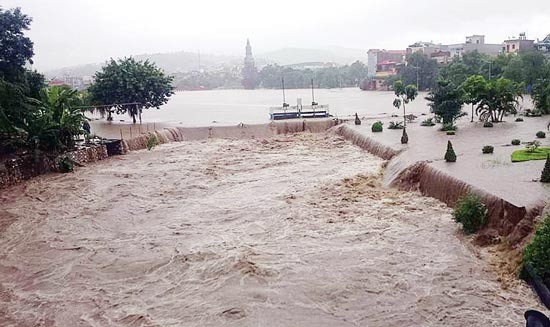 Prolonged heavy rains boost a faster rise of flood level on local rivers.(Photo: SGGP)
Upstream So Lo Hydroelectric Plant of Phuc San commune flooded 20 households.
Statistics showed that heavy rains flooded eight families in Dao village of Hoa Binh commune.
The People's Committee of Mai Chau district yesterday donated VND 500, 000 for every affected familiy. At least seven people died due to heavy rain and flooding.
Sa Pa district's authority reported that one person was died and two children were missing. Meanwhile, a 22-years-old person was killed and a child was overflowed by flash flood in Thai Nguyen province. The bad weather also made landslide in Muong Lat Town.
According to the National Hydrology Meteorology Forecast Center, new tropical low pressure will continue causing heavy rains and flooding in the northern region from August 15- 18.
Currently, upstream water level on Ma River in Thanh Hoa and Son La province is rising rapidly.
Upstream water level on Ma River is predicted reach at 60, 50 meters over sea surface. Flash flood will continue hitting Quan Hoa, Quan Son and Muong Lat district.