Storm No. 4 has entered southwest Guangdong province, China, this morning. As it weakens into a tropical depression, it may cause heavy rains in northern Viet Nam, the national weather bureau forecast.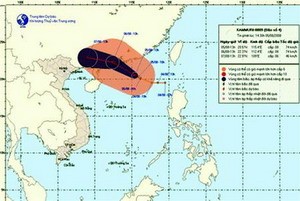 The progress of the storm
The area near the center of the storm sees wind speeds of force 8 or 9 (70 - 85 km/h) on the Beaufort scale. The sea is very rough.
The storm will cause heavy rain in many parts of the North, particularly in the Northeast and in mountainous areas. The rain may cause landslides and floods in some areas.
The central and southern areas of East Sea will rough, with strong winds of force 7 on the Beaufort scale.
By 4 p.m. on Aug. 5, Da Nang had had 711 boats with nearly 4,000 fishermen at sea, including 52 boats with 3,000 fishermen between Hai Phong and Khanh Hoa provinces.
Nghe An province will experience floods and landslides, mainly in Con Cuong, Ky Son, Tuong Duong, Que Phong and Quy Chau districts. Some 43,000 people live in 10,000 houses are in the affected area.