After several months of hot, dry weather, most areas in the Central Highlands province of Kon Tum saw heavy rain and hail on April 5. The precipitation provided much needed relief for thousands of hectares of coffee and other crops.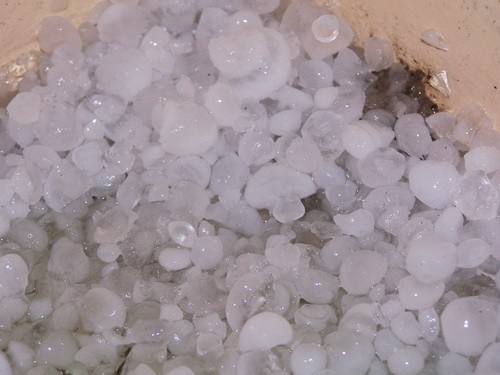 Hailstones, 2 centimeters in diameter, fell in the Central Highlands' Kon Tum Province on April 5 along with heavy rain. (Photo:Tuoi tre)
The 90-minute downpour occurred in Kon Tum City and Dak Ha District, where the largest area of rubber and coffee plants are grown.
The rain will also help residents save billions of dong in irrigation costs.
According to Le Khanh Bien, director of Kon Tum Province's Hydro-Meteorological Forecasting Center, the area received 30-40 mm of precipitation on April 5. The downpour also flooded some roads in Kon Tum City and felled trees.
However, the burst of rain does not signal the beginning of the rainy season in the province, said Bien, adding that the area will once again experience hot weather over the next few days.
The rainy season is expected to start in the middle of May, Bien added.