Several parts of the country were inundated by torrential rainfall yesterday, caused by a low pressure zone in the East Sea and an inter-tropical convergence zone, which causes a clash of winds in the northern and southern hemispheres, resulting in heavy rainfall in the north region, according to the National Weather Bureau.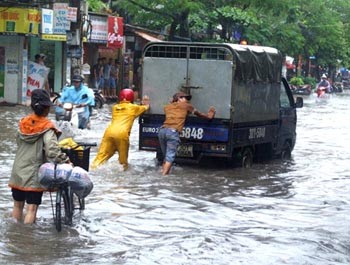 A 30 minute downpour brought traffic to a halt in Hanoi yesterday (Photo: Thanh Nien)
At noon yesterday, Hanoi was lashed with a downpour that lasted a bare 30 minutes but caused severe flooding in many areas of the city. Precipitation exceeded to 40-60mm.
A woman was struck dead by lightning, which also injured three other women as they cultivated their paddy fields in Tan Hoi Commune of Dan Phuong District.
The low pressure zone together with southwesterly winds also brought heavy downpours in many parts of the southern and Central Highland regions.
The zone is now centered at 17.5-18.5 degrees north latitude and 118.5-119.5 degrees east longitude, east of the Philippine Luzon Island. This has created rough conditions in the northern parts of the East Sea with winds of level 6-7 blowing at 39-61 kilometers an hour.
Heavy rains are predicted for another one to two days all throughout the country.