Heavy rainstorms have caused rivers to swell to dangerous levels, with flood warnings in the central provinces from Thua Thien-Hue to Quang Ngai and Highlands provinces.  Weather forecasters said rivers would continue to rise, with more severe warning levels expected. Such flooding could seriously affect the two regions, with many residents unable to find food.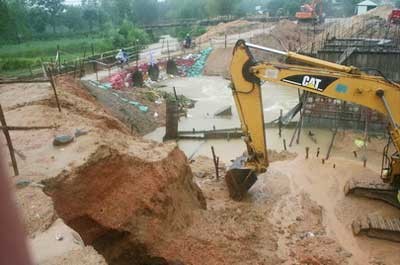 Traffic on a section of  Vong Che Bridge in Quang Nam has slowed to a crawl due to the erosion (Photo: Tuoi tre)
Torrential rains have destroyed thousand of rice fields in the central provinces, causing damage worth billions of dong, the Flood and Storm Prevention Center in the central region said. Thousands of people face starvation, it warned.
In the central city of Da Nang, an estimated VND40 billion of damage was caused by flooding.
The chairman of Quang Nam's Nong Son District People's Committee, Huynh Khanh Toan, said water levels in Thu Bon River have risen quickly. Subsequently, traffic on some roads in communes Que Ninh, Phuoc Son had slowed to a crawl.
Bridges Khe Rinh, Khe Phoc, Khe Le and Ba Su were submerged under floodwaters of up to one meter.
Police, soldiers and youths were encouraged to help people and young students evacuate from isolated areas to safer shelters. The armed forces prevented people from crossing deep areas of flooding.
Heavy rains have submerged 938 hectares of rice fields in Thua Thien – Hue Province and 731 hectares of breeding aquatic animals, as well as destroying dams in Cay Da and Hoi Chua, Phong Dien District, and Xom Khoai in Phong Xuan District.
There have been dangerous landslides on some sections along rivers O Lau, Bo, Huong, Truoi, Ta Rinh, as well as roads 14B, Highway 49 A, and Ho Chi Minh Road.
The Highland provinces of Lam Dong and Gia Lai were also inundated with floodwater, destroying rice vegetable fields.
In addition, Mekong Delta provinces have faced difficulties in harvesting rice due to continual rains.
Moreover, prices of unhusked rice are also down. For instance, in the district of Long Phu in the Mekong delta province of Soc Trang, rice fetched VND2,500 – 2,700 a kilogram. With such prices, farmers have complained they will make big losses.