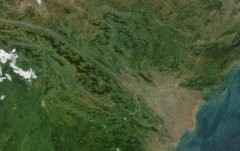 Northern Viet Nam
A cold front is moving towards the northern region which is set to undergo heavy showers and even thunderstorms, warned the National Hydrometeorology and Forecasting Center.
Temperature in the region will drop by 3-4o C while whirlwind and squall may happen.
But since this cold air mass is rather weak, it only affects the mountainous region in the north, said Mr. Vu Anh Tuan, head of the center's Short-Term Forecast Department.
In other news, the Higos typhoon has been weakened into a tropical low pressure and will no longer affect Viet Nam.