The Mekong River swelled last week as heavy rains continue to soak the delta, prompting some provinces to drain dams, though agricultural production is expected to remain healthy.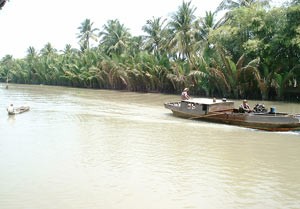 A branch of the Mekong River flows into Can Tho (Photo: TC)

The National Hydrometeorology Forecast Center said the head-stream water level of the Mekong River in the Dong Thap Muoi areas and the Long Xuyen Quadrangular is rising around 3 centimeters per day.

On Monday, water levels at Tan Chau and Chau Doc may reach 3.90 meters and 3.35 meters respectively.

Earlier, An Giang province discharged water from Tha La dam and Tra Su dam into the provinces of An Giang and Kien Giang and Can Tho City.

With the current flood discharge around 900 cubic meters per second, the average increase of water level at the Long Xuyen Quadrangular is 2 centimeters per day, which should not do much damage to the area's agricultural production.