A hot continental low pressure is developing again in the west, causing temperatures in northern provinces and parts of the central region to climb above 35 degrees Celsius in the next three or four days.
The National Center for Hydro-Meteorological Forecasting said on Sunday (February 28) that the northern region could experience the hottest days so far this year in the coming days.
In some areas, the mercury can even hit 37-38 degrees Celsius, the center said.
Some provinces like Cao Bang, Bac Kan, Vinh Phuc, Lao Cai, Lai Chau and Hoa Binh will experience hot weather and drought conditions which are prompted warnings of forest fire.
The center said forest fire alerts have been set to the highest level in these provinces.
The hot and muggy weather has seen hospitals in Hanoi fill up with patients, doctors said.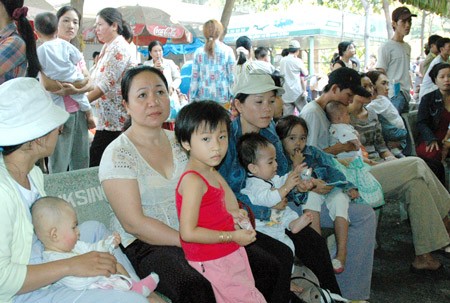 Children wait for health examinations and treatment for ailments at the Hanoi – based Pediatrics Hospital. (Filed photo)
At the Hanoi – based Pediatrics Hospital, the number of patients seeking health examinations soared suddenly on Sunday, overloading many departments, they added.
Dr. Can Phu Nhuan of the hospital said most patients had diseases that typically spread in summer and related respiratory problems.
The hospital receives around 800 children per day on normal days, now it has been receiving more than 1,000 children per day coming for health examinations and treatment for ailments such as cough, fevers and runny nose, said Nhuan.
The situation is similar at the Bach Mai and Saint Paul hospitals' pediatrics department, where the number of children coming to the hospital for health check-up increased by 30 percent in the last few weeks due to the weather conditions.
At the National Gerontology Hospital, the number of elderly coming to hospitals for has check-up also increased, doctors said, adding they have been receiving around 200 patients per day.
Most patients were hospitalized with diabetes, high blood pressure and cardiovascular problems, said a doctor from the hospital.
With the unseasonal weather, doctors have cautioned people to keep their surroundings clean, maintain personal hygiene and pay attention to food safety.
Health experts have meanwhile advised that people not use antibiotics and antifebrile drugs to treat children without a doctor's prescription.