Because of the influence of hot low pressure from westwards accompanied with operation of hot and dry wind from Laos, 36- 39 degrees Celsius hot weather occurs in northwestern provinces from Thanh Hoa, Thua Thien- Hue, Danang to Phu Yen on the large scale, reported the National Hydrology Meteorology Forecast Center.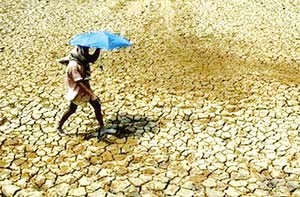 (Photo:SGGP)
However, because of effect of an outgoing cold front in the northern region, the temperature in the northwestern and north central provinces is decreasing,   measured at 35- 37 degrees Celsius.
The temperature in the area of Ho Chi Minh City and southeastern provinces is predicted to decrease sharply at 34- 35 degrees Celsius. By midweek, Ho Chi Minh City will see showery weather and thunderstorm.
Meanwhile, central provinces maintain hot weather with the highest daily temperature of 37- 38 degrees Celsius.