Hot weather will come back to the southern and Central Highlands regions, while rainfall will decrease over the next two days, due to a declining southwest monsoon, said Le Thi Xuan Lan, deputy director of the Southern Hydro-meteorology Forecasting Bureau on June 13.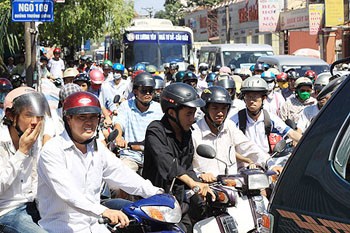 Hot, dry weather is forecasted to return to the south in next two days. (Filed photo)
Highs for the southeastern region and Ho Chi Minh City should hover around 35-37 Celsius, and 33-35 Celsius in the southwestern region. However, some places in Binh Phuoc, Dong Nai, Ho Chi Minh City and Mekong Delta coastal areas will experience partial downpours.
Central Vietnam will experience hot and dry weather with highs of 37-39 Celsius degrees, due to hot low-pressure systems and the foehn (dry wind) effect.
The southwest monsoon likely will come back between mid-week and the weekend, the bureau said.
Southern areas such as Binh Phuoc, Dong Nai, Ho Chi Minh City and the Mekong Delta coast areas will see sunshine in the morning and heavy rains in the afternoon and evening, with the possibility of rainstorms and whirlwinds by the weekend.
With El-Nino over and La-Nina due to hit in the next few months, the country may face torrential rains from July through the beginning of December, said the bureau.