Two persons died and one injured due to lightning strikes after torrential rainfall in the northern mountainous region, in the last three days.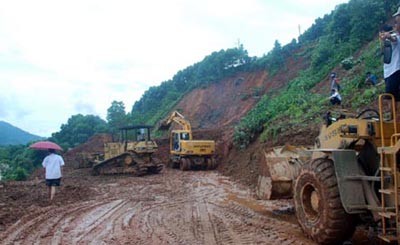 Bulldozes remove landslide debris on Highway 2 in Ha Giang Province (Photo: baohagiang.vn)
Precipitation measured upto 266-43mm, causing flooding and severe landslides in several areas in Vi Xuyen, Viet Lam and Bac Quang Districts in Ha Giang Province.
About 200 houses and 100 hectares of newly sown rice were destroyed in Vi Xuyen District. The district also recorded tens of collapsed bridges and hundreds of meters of debris covered roads.
Highway 2 suffered a huge landslide in Bac Quang District. Half the hill slid down to completely cut off traffic about 34 kilometers from Ha Giang City.
According to the Central Steering Committee for Flood and Storm Prevention and Control, two people were killed and one was injured after being struck by lightning in Lao Cai and Ha Giang Province.
About 890 hectares of rice and vegetables were flooded in Ha Giang and Bac Giang Province.
The water level surged high in the upper reaches of Chay River causing flooding in surrounding areas.