According to the Hydrology Meteorology Forecast Center of Vietnam and Pacific Asia region, a tropical low pressure zone has developed into a new typhoon from offshore of Pacific Ocean after entering East Sea.
The typhoon named 'Koppu' moving towards west has its speed at 25 kilometers per hour; and then it changed its direction towards west northwestward and headed towards East Sea yesterday evening.

'Koppu' storm was located at 15, 4 degrees north latitude and 129, 5 degrees east longitude eastward of the Philippines on Thursday.
Currently, the cold air mass directly affects to the northern areas; and according to forecast weather, the region will face 3- 4 cold fronts till December.
Meanwhile, the central provinces entered rainy season, hence localities should keep close watch of flash floods and landslides, said the Vietnam Hydrology Meteorology Forecast Center.
Weather experts said: "Around 1- 2 storms and tropical low pressures will operate in East Sea, and directly affect the mainland Vietnam in October, 2015".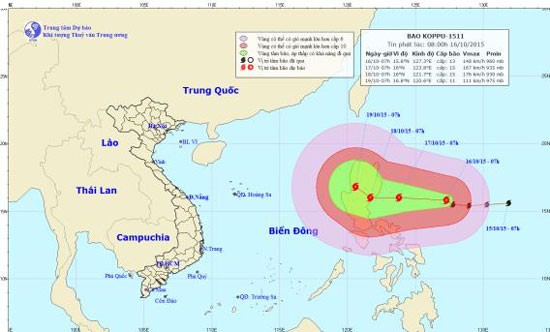 'Koppu' storm operates in East Sea. (Source: The National Hydrology Meteorology Forecast Center of Vietnam)