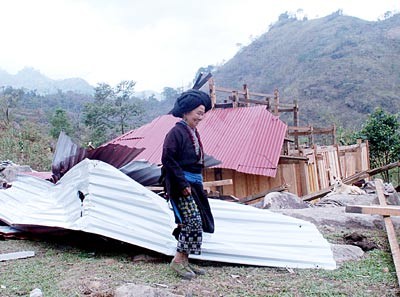 A woman walks past a razed house in northern Lai Chau Province after a hail storm and high winds struck the area on April 16 (Photo: SGGP)
A hail storm and high winds wreaked havoc in the northern province of Lai Chau on April 15 and 16, razing homes and destroying property and crops over a wide area.
The province, which has been experiencing drought conditions for the last several weeks, was hit suddenly in the morning with rain, thunder, hail and whirlwinds, lasting around 30 minutes.
Around 300 rooftops were blown off the homes of Dao and Mong ethnic minority people in the district of Phong Tho and according to some locals, the wind and hailstones were the strongest the community had seen in at least 50 years.
The hail alone caused hundreds of millions of dong in damages to hectares of rice and vegetable crops in the area, while some cattle and water-fowl also died.
The storm also blew off the rooftops and destroyed parts of the Lan Nhi Thang junior high school, also in Phong Tho District.
Vu Xuan Tinh, deputy head of the province's Irrigation and Storm Prevention Department, said that officials in storm-hit localities would provide support to affected families.