As per local authorities' initial statistic by December 17, an unusual snowfall in the northern mountainous province of Lao Cai has caused an estimated VND5 billon (US$250,000) loss to local vegetable growers.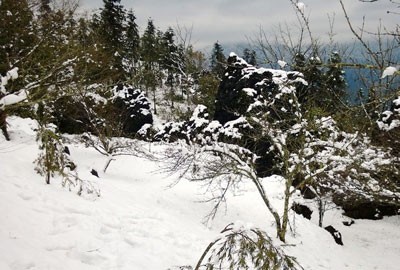 Snowfall covers Sa Pa (Photo: SGGP)
Snow has damaged 64 hectares of cardamom and 758 hectares of vegetables in Lao Cai Province's Bat Xat District. Y Ty Commune of Bat Xat District has one flattened house due to thick snow but no loss of human was reported.

Meantime, 2,100 square meter of net house where grows orchid and tomatoes in Sa Pa District was destroyed and a house was ruined by cascading soil and rock causing loss of VND65 million.

Snowfalls also breached an electricity grid along the Highway 4D causing huge electricity disruptions in some districts and estimated loss of VND2 billion (US$ 94,760).

Cattle in Ta Giang Phin, Sa Pa, Ta Phinh, and San Sa Ho communes died en mass due to frost. Hundreds of hectares of vegetables and artichoke were badly affected in the cold weather bringing the loss to around VND5 billon (US$250,000).

Sharper frost still hit Sa Pa, the district's most famous tourist attraction and heavy snowfall covered everywhere in Ham Rong Mountain, Bac Waterfall and O Quy Ho in Sa Pa. Subsequently, tourists from every corners of the country flooded the district.

Vehicles such as trains and passenger coaches to carry holidaymakers to Sa Pa were all overloaded, said train management board in Lao Cai Station. In two days December 15 and 16, increased number of travelers compelled management board to join three extra carriages onto the train to Lao Cai. In addition, more ten carriages were increased to take tourists to Sa Pa.