The rare snowfall in the northern mountainous province of Lao Cai since the mid-December has caused damages totalling nearly 35.2 billion VND (1.7 million USD).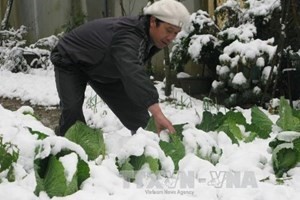 (Photo:VNA)
Hoar frost following the layer of 50-cm ice have killed over 200 heads of cattle and damaged 800 hectares of crops in the province's Sa Pa, Bat Xat, Muong Khuong and Bac Ha districts.
In Bat Xat's Y Ty commune, rains have triggered landslides, uprooted trees and caused a blackout since the Den Sang – Y Ty electricity transmission line was damaged. Total losses in the locality are estimated at more than 16 billion VND (761,900 USD).
Meanwhile, this cold spell has caused an approximate 20 billion VND (952,400 USD) loss to Sa Pa, including 131 heads of cattle killed, hundreds of hectares of crops and flower devastated, and electricity supply disrupted.
However, losses are predicted to mount up as the spell is forecast to linger.
The provincial People's Committee has asked its districts to promptly carry out measures to protect crops and livestock as well as reviewed damages to have timely assistance.
It has also requested the neighbouring province of Lai Chau to help Lao Cai's nearby localities to move livestock to warmer places.
There are more than 200,000 heads of cattle in Lao Cai, 50 percent of them in mountainous districts.