The frost has lifted and the temperature risen to 11.1ºc in Lao Cai, the province's Hydrometeorology Forecast Center said yesterday.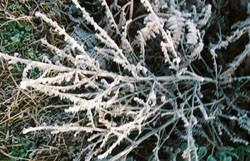 Trees are covered in frost in Lao cai province. (Photo: Lao Dong)
The temperature in the province's Bac Ha, Si Ma Cai, Muong Khuong, and Sa Pa Districts rose to 4-5ºc.
There has been snowfall on Mount Fansipan, Indochina's tallest peak at 3,143m.
Over the next three days, the northwestern region would be covered in fog but temperatures would rise to a minimum of 14-16ºc, the Central Hydrometeorology Forecast center said.