Three days after frenzied flooding calmed down, a large crack has appeared on a mountain behind Khen Len Hamlet, Cong Bang Commune, Bac Kan Province.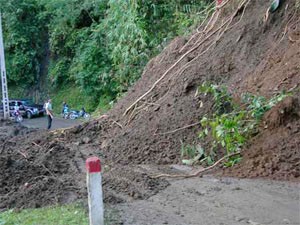 Landslide blocks the road leading to Pac Nam District
Heavy rains fell again in Pac Nam District, Bac Kan Province, yesterday causing landslides at some sections of the road leading to the district.

More than 10 communes of the district have been blocked off.

Dozens of vehicles transporting relief to people of Khen Len and Na Be Hamlet, Nhan Mon Commune, were stuck in congestion near the Nghien Loan Dam due to the continuing rising water levels.

Truong Chi Trung, chairman of Bac Kan People's Committee, said that a crack one kilometer long and five centimeters wide has appeared on the mountain behind Khen Len, where landslides had buried 10 victims, nine of them still missing.

He said that the crack is getting longer. A few days earlier, it was just between 300 and 400 meters long.

At present, municipal authorities have evacuated 105 families in Pac Nam and Van Son District to safer ground.

The new heavy rains have brought the search of the missing to an abrupt halt.

To speed up the rescue as soon as the heavy rain is over, a further 100 soldiers and officials have been mobilized to give a lending hand, taking the total number of rescuers to 360.