At present, households living along Tien River in the Mekong Delta region are being threatened by serious landslide.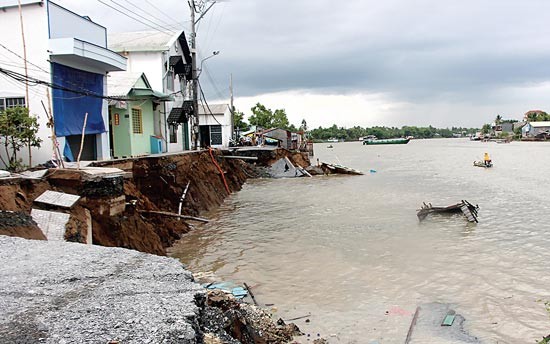 Severe landslide happens in Cai Rang district, Can Tho city. (Photo: SGGP)
Landslides have swept away hectares of vegetables and fruit crops, houses and landslide prevention & control works.
Currently, The Dong Thap province's Chau Thanh District's An Hiep Commune is to meet a high risk of landslide disaster. Earlier, a severe landslide occurred in An Hiep Commune of Dong Thap province on May 11- 13, destroying completely over 2, 000 s.q meters of agricultural land and at least five houses. During two years, there has been seven landslides in soldering- irons and dykes in An Hiep commune, causing a loss of more than VND 2 billion.
Statistic showed that a strip of land 30 kilometers in length in 40 communes, wards and towns along Tien River section and An Hiep Commune of Chau Thanh District are being warned in a high risk of landslide zone.
Similar situation in Can Tho City, a landslide occurred in the area of Yen Thuong, Le Binh Ward, Cai Rang District on May 26, sinking at least three houses and 50 meters of road in Can Tho River. Local authority and functional forces mobilized nearly 100 rescuers to move 10 households from high risk zones to safer places.
Earlier, a dyke with its length of 40 meters in Hung Thanh ward, Cai Rang district was also sunk into Can Tho River on March 23.
Since early this year up to now, over 300 meters of a dyke and 1, 440 square meters of agricultural land have been destroyed by landslides.
Regarding bad situation, Chairman of People's Committee of Dong Thap province Nguyen Van Duong signed a decision to announce an emergency landslide along Tien River.
Dong Thap authority asked Department of Agriculture and Rural Development and local authorities to determine high risk landslide zones to prepare the plan to move households to safer places.