Much of the Mekong Delta could disappear under one meter of seawater by 2100, the Ministry of Natural Resources and Environment said August 20.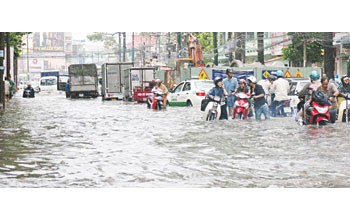 Ho Chi Minh City is flooded after a heavy rain on August 19, 2009. (Photo: SGGP)
According to the scenario, temperatures in the northern and central regions will continue to rise in hot seasons.
The rainfall in the southern region of Vietnam will lessen, while it will increase in the north and the sea levels will rise.
Predications for sea level rises vary from 0.7 meters to the worst case scenario of 1.15 meters in the next 100 years.
Climate change will strongly affect the Red River and Mekong deltas.
With much of the country low lying and having a long coastline, the ministry said that it will update and provide scenarios on climate change, especially sea level rises, to other ministries, departments and local authorities in order to conduct national programs to cope with the problem.