Le Thanh Hai, deputy director of the National Hydro Meteorological Forecasting Center said on Wednesday that Vietnam can expect about three to four more storms and tropical depressions during the course of this year.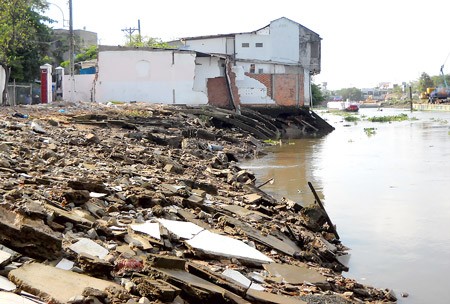 The Government has set a target to relocate 12,500 households by 2015 (Photo: SGGP)
He said that the East Sea has already been hit by three storms and one tropical depression since the beginning of the year.
Right now, the northern and central provinces are experiencing a hot spell, the sixth this summer. Temperatures have soared to 35-37 degrees Celsius.
The above provinces might have to suffer some more heat waves in July and August but they will not be as hot as the ones in the last few months.
Mr. Hai said that the El Nino phenomenon will return in August and September to complicate weather conditions in the country. For instance, the rainy season might end earlier than normal in the northern, southern and central highland regions.
The Ministry of Agriculture and Rural Development has sent a dispatch to the people's committees in provinces and cities across the country asking them to relocate or evacuate residents from highly vulnerable, flood and landslide prone areas.
Local authorities should spend from their budget for relocating people. In case of capital shortage, they can request the Prime Minister for assistance.
According to the ministry, the country has so far resettled more than 146,000 households from landslide prone areas, but another 600,000 still need to be relocated.
The Government has set a target to relocate 12,500 households by 2015, at a total expense of VND15 trillion (US$714 million).