Deputy Prime Minister Hoang Trung Hai chaired an online conference, held by the Ministry of Agriculture and Rural Development, to listen reports from local authorities nationwide about weather situation in the recent years, on August 20.
At the conference, the Central Steering Committee for Flood and storm Prevention said that landslides, floods consecutively have hit Vietnam in the recent years and caused serious damages to people, property and ecological environment.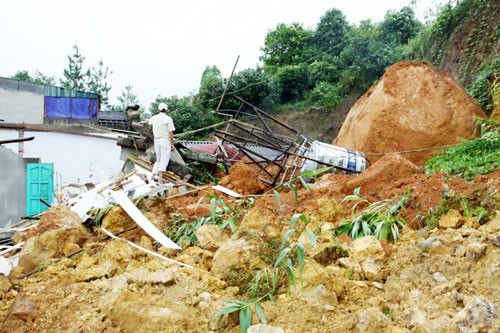 Flood swept through Tam Duong district, Lai Chau province ( Photo: SGGP)
Statistics showed that 250 floods, landsides hit Vietnam which directly affected people's life. Many houses have been flooded out. At least 646 people were killed and missing, nearly 351 were injured, more than 9,700 households were sweeping, over 100,000 houses were flooded and destroyed completely, and around 75,000 hectares of plants, rice and vegetable crops also were flooded under water by landslides, floods since 2000 until now.
In addition, bad weather affected to work progress of many traffic, irrigational projects and economic problem with total losses of VND 3,300 billion.
Annually, the northern mountain provinces and central provinces like Lao Cai, Ha Giang, Lai Chau, Son La, Cao Bang, Bac Can, Yen Bai, Ha Tinh, Quang Nam, Kon Tum, Gia Lai, Dak Lak and Binh Thuan always were affected by floods and landsides.
Early this year until now, the consecutive landsides hit in the areas of the northern mountain provinces like Ha Giang, Lai Chau, Cao Bang, Lang Son due to influence of storm circulations and heavy rains.
The bad weather killed 24 people including five victims in Tam Duong town and Hoang Su district.
Dealing with the serious damages, the Central Steering Committee for Flood and storm Prevention suggested Government to support for the locals in moving households to safe places, buying technical rescue equipment in order to ensure people's life in the areas.
According to latest report of the Central Steering Committee for Flood and storm Prevention and National Committee for Search and Rescue in Ha Giang, Cao Bang on August 20, ten houses were flooded under water, two schools and a rural cultural house were unroofed, and 24, 3 hectares of plants, rice and vegetable crops were destroyed completely.
On the other hand, flood level continued rising up and caused flooding on a wide area of Xuan Non commune, Tra Linh district and communes of Van An, Lung Nam, Ha Quang district in Cao Bang province.