After being hit by typhoon Xangsane, Viet Nam would have to suffer one more storm formed by one of recently-captured tropical depressions, predicted international meteorologists.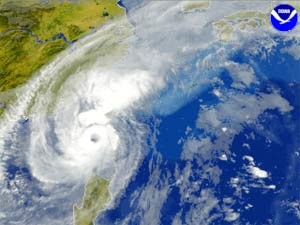 Typhoon Xangsane starts at 166nm north-northwest from Port San Vicente, Philippines on late Saturday.
Satellites of the international storm forecasting centers like National Oceanic and Atmosphere Administration (NOAA) and ASIASAT captured an image of a newly-form tropical depression next to typhoon Xangsane's den.
Meanwhile, the Naval Pacific Meteorology and Oceanography Joint Typhoon Warning Center reported that two tropical depressions with current wind speeds of 27-37 km/h and 18-27km/h are forming nearby the departure point of Xangsane.
These two tropical depressions are subjected to strengthen into tropical storms over the next 24 hours, many meteorologists predicted.
In the worst case, Viet Nam may have to suffer one of these storms when it crosses the Philippine archipelagoes and then moves into the East Sea like its forerunner Xangsane, they added.
Typhoon Xangsane weakens into tropical depression
Typhoon Xangsane continued to weaken late Sunday after making landfall in central Viet Nam, the Central Hydro-Meteorological Center reported.
Gale force winds of down to category 7 circle around the area from Ha Tinh to Quang Nam province and northern Central Highlands, it added.
As of 1 p.m. on the same day, the typhoon's center was monitored at 15.8 degrees north latitude and 107.2 degrees east longitude over the border of Viet Nam and Laos.
The typhoon is also predicted to continue moving into Laos and turn into a tropical depression, generating Force 8 to 9 winds (62-88 km/hour) around the eye of the storm.