The national weather center and forecast agencies from the US Navy and Japan said October 27 that a tropical low-pressure system to the east of the Philippines has now intensified to a storm.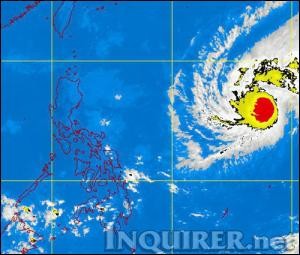 Pagasa satellite image as of 1:00 pm. Wednesday. (Source: Inquirer.net)
Le Thanh Hai, director of the National Hydro-Meteorological Forecast Center, said the storm called Mirinae was moving west at 62-88 kilometers an hour.
Storm Mirinae has developed in the wake of Typhoon Lupit, which weakened to a tropical low-pressure zone in the sea off Japan's northeast the same day.
Mirinae, a Korean word meaning "galaxy," is the 21st storm in the west of the Pacific Ocean this year.
It is forecast that the storm could strengthen to a level 11-12, or 103-133 kilometers an hour.
Over the next three to four days, it will approach the Philippines and then head towards the East Sea.
The national weather center has warned boats not to travel in eastern areas of the East Sea.