A new storm named Wukong is taking shape off the central coast of Philippines and will greatly affect the weather on the East Sea by late afternoon on December 26, according to the National Hydro Meteorological Forecasting Center.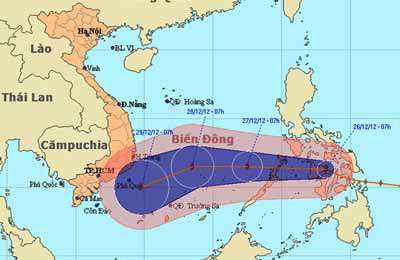 Direction of 'Storm Wukong' on December 26 (Photo: nchmf)

At 7am on December 26, the storm was centered 11.3 degrees north latitude and 123.2 degrees east longitude on waters off central Philippines. Strongest winds near the storm were of level 8 and moving at 62-74 kilometers an hour.
Within the next 24 hours, the storm will move westwards at 25 kilometers an hour. By 7am on December 27, it will be located 360km east of Song Tu Tay Island of the Truong Sa (Spratly) Islands. Wind gales will remain unchanged.
Affected by the storm, the mid parts of the East Sea will be rough with progressing winds from late afternoon on December 26.
The national weather bureau said that the storm is likely to move into the middle or the southern parts of the East Sea.