A new storm is beginning to take shape on the East Sea at 19.3 degrees north latitude and 112.3 degrees east longitude as reported at 7am on Monday by the National Hydro Meteorological Forecasting Center.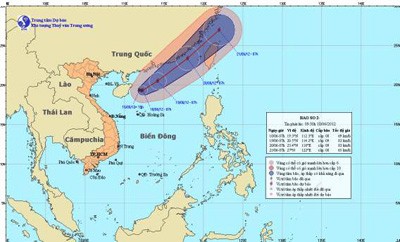 Direction of the new storm on the East Sea on June 18 (Photo: nchmf)
Currently the storm is positioned about 160 kilometers east of Hainan Island off China, with the strongest wind speeds near the eye of the storm reaching level 8-9 to blow at 62-88 kilometers an hour.
Within the next 24 hours, forecasts say it will move east northeast at 5-10 kilometers an hour and gain slightly in strength.
By 7am on Tuesday, the storm is expected to move 10.5 degrees north latitude and 114.2 degrees east longitude, 340 kilometers east northeast of Hainan Island off China. Wind gales could move 75-88 kilometers an hour.
The storm has affected the northern and middle parts of the East Sea, including the Hoang Sa (Paracel) Islands, which is seeing wind speeds of upto 50-74 kilometers an hour.
Waters off Binh Thuan to Ca Mau Provinces are also rough due to the northwesterly winds in the southern parts of the East Sea.