According to the National Hydrology Meteorology Forecast Center, 'Nock- ten' typhoon is the 10th storm hits Vietnam this year after it yesterday entered the East Sea.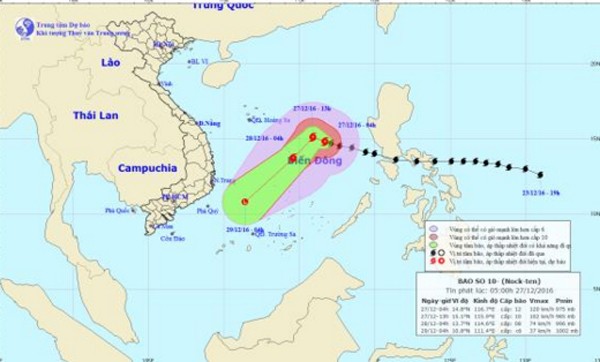 Nock- ten will turn southwards as it enters the East Sea
The supper typhoon may change its direction because a cold air is strongly operating and moving toward the south.
By the evening yesterday, the tropical storm was centered at 14.1 degrees north latitude and 119.4 degrees east longitude at about 840 kilometers of the Paracel Islands with the strongest wind near the center gusted level 12- 15.
In next 24 hours, it is forecast to move west northwestwards at 15- 20 kilometers per hour approaching the Paracel Islands.
By the evening tomorrow, it will be weakened into a tropical low pressure, and locate at 220 kilometers of the Song Tu Tay Island (Southwest Cay) of the Spratly Islands. The powerful wind can reach level 7- 9.
Because of an impact of the storm circulation, territorial water of the mid East Sea will see powerful wind speed, big waves of 4- 6 meters and sea rough.
With the bad weather, the National Steering Committee of Natural Disaster Prevention, Search and Recue yesterday asked the coastal provinces from Quang Binh to Kien Giang, relevant ministries, departments and agencies to call on small- big vessels out off the dangerous zones, and be ready for taking residents to safety areas.