The National Hydrology Meteorology Forecast Center warned that a tropical storm named Nock-ten will enter the East Sea on December 26.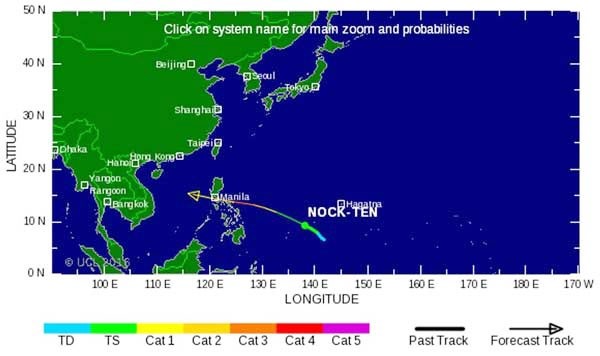 Nock-Ten is approaching the East Sea
Yesterday, the typhoon was centered at 11.8 degrees north latitude and 132.1 degrees east longitude, at 1,200 kilometers of Philippines's Luzon Island. The strongest wind near the center gusted level 12- 14.
Because of the storm circulation in combination with cold air, a heavy downpour is forecast to hit the central provinces with its rainfall of 100- 300 mm from December 26.
The National Steering Committee on Natural Disaster Prevention, Search and Rescue said that the current capacity of water reservoirs in the north and southern central, central highlands region has reached 80- 100 percent. Tens of reservoirs must discharge water.
The Electricity of Vietnam Group and Ministry of Trade and Industry reported that around 144 reservoirs provided information about water level. Of these, 30 reservoirs in the Southern central region planned to realease the water.