The National Hydrology Meteorology Forecast Center reported that floodwaters are still rising on local rivers from Thua Thien- Hue to Quang Ngai provinces.
In particular, flood level reached 9.8 meters on Vu Gia River; 5.8 meters on Ve River; and 9.3 meters on Kon River yesterday.
The rapid water increase caused serious flooding on the large scale in the provinces from Thua Thien- Hue to Phu Yen provinces.
Flash flood, heavy downpours and landslide are estimated to expand in both mountainous and low areas, and affect to reservoir safety in the provinces from Thua Thien- Hue to Phu Yen.
Because of the influence of northeast monsoon in combination with a turbulence of east wind, medium- heavy rains will cover over the central provinces from Quang tri to Khanh Hoa by a couple days. The highest rainfall will be able to reach 200- 400 mm.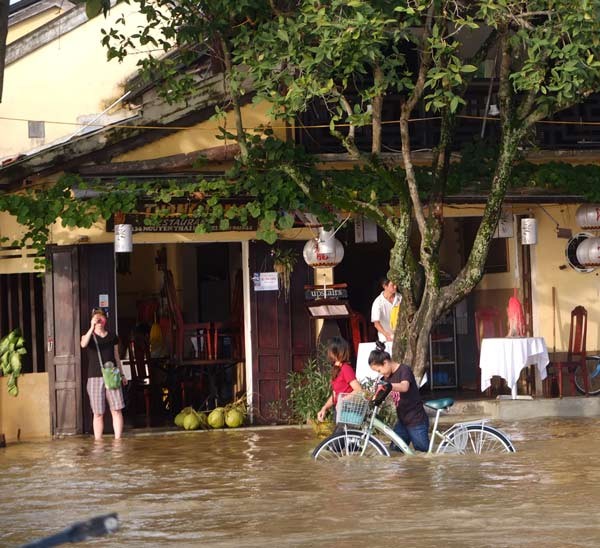 Houses are still inundated under 0.5 meters water by this morning.
Unexpected flooding has been back to river systems along Quang Tri to Binh Dinh provinces.
Total 24 hydropower plants and 11 water reservoirs are opening water release with the high volume of 1,014 meter cubic per seconds in Binh Dien, 579 meters cubic per seconds in Huong Dien, 195 meters cubic per seconds in Tranh River, 2,800 meters cubic per seconds in Ba River.
According to reporters of the Sai Gon Giai Phong Newspaper, landslide, flooding and interrupted traffic have seriously affected to the resident's life and production in Quang Nam province.
Several roads in Nghia Hanh, Mo Duc, Duc Pho district and Quang Ngai city were inundated under 1-2 meters. To deal with the bad weather, the functional force had to move 50 houses to safe places.
The Steering Committee on Natural Disaster Prevention, Search and Recue of Thua Thien- Hue province said that nearly 2,000 houses were inundated by afternoon yesterday. Thereby, all schools allowed absence of pupils.
A prolonged heavy downpour occurred in Quy Nhon city of Binh Dinh during two hours, causing difficult traffic for main roads as Tran Hung dao, Nguyen Tat Thanh, Chu Van An and Nguyenn Thi Dinh.
On the same day, a delegation from Viet Nam Red Cross Society worked with the People's Committee of Binh Dinh province to listen to damages due to the recent flooding.