Climate change and global warming is seeing sea levels rise and is the reason behind the severe weather conditions in several northern provinces like Quang Ninh and Nam Dinh and Hai Phong City.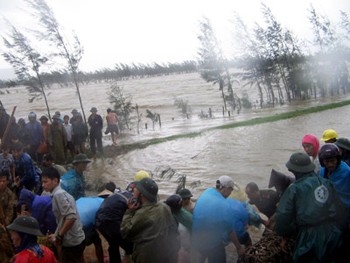 Thanh Hoa Province building dykes to brace the storm (Filed photo: SGGP)
One of the worst hit is Hai Phong where heavy rains have caused large parts of the city areas to remain flooded for whole days.
With sea levels rising, high tides lash large water waves into the city where they find nowhere to flow out to. Most reservoirs are unable to regulate the water flow any more. Experts believe that the flooding in Hai Phong is even worse than in HCMC and Hanoi.
Vu Trong Quang, director of the Hai Phong Drainage and Sewer Company said that his company had struggled to drain water in the city. However, even though the 1B project has been completed, it is only capable of draining water below 120mm of rainfall.
Several areas remain flooded as the high tide wave's rise higher than the road levels on Ben Dinh, That Khe, Nguyen Binh, To Hieu and Le Loi streets.
Over the last 50 years, the sea level has risen by 20cm as per the Hon Dau Hydro Meteorological Station in Hai Phong city. Hai Phong, along with Ho Chi Minh City is amongst the ten worst flooded areas in the world where the sea level has risen by over a meter.
At present, many areas of Hai Phong like Phu Long coastal commune and Cat Hai Island are facing severe erosion from sea water.
In the adjacent province of Nam Dinh, coastal areas have also been badly affected. People in Hai Chinh and Hai Trieu communes of Hai Hau District have been evacuated three times due to landslides.
Nearby, the tourist sites in Thinh Long beach of Hai Hau and Quat Lam of Giao Thuy District have continuously been flooded and lashed by the sea.
Le Cong San, chairman of the People's Committee of Thinh Long town said that ten years ago, the Thinh Long beach was one kilometer off the sea. However, ever since the casuarinas forest was swallowed by the sea, erosion is increasing further inland. The Nam Dinh province administration has been forced to build a dyke to prevent erosion and protect the tourist site.
According to Nguyen Ba Tien, head of the Dyke Management Department in Hai Phong, the city now leads the country in an afforestation program to control the sea. This has been an effective and economical method to deal with the climate change besides building the sea dyke.
As of now, the city has planted nearly 6,000 hectares of mangrove forests; several of which have successfully repelled 50 percent of the waves in districts like Kien Thuy, Do Son and Tien Lang.