Typhoon Hagupit hit China's Leizhou peninsular at 10:30 a.m. (Viet Nam time) on Wednesday and will affect Viet Nam's northeastern provinces, said the Viet Nam National Hydrometeorology Forecast Center.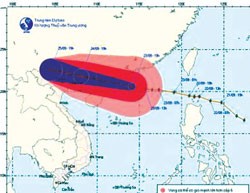 The route of typhoon Hagupit

Affecting by the typhoon, the northern part of the Tonkin Gulf will see winds of force 6 - 7, which later rise to force 8 - 9, The area near the center of the typhoon will have winds of force 10 -11 or higher. The seas will be extremely rough.
Starting Wednesday afternoon, the Northeast will experience winds of force 6 -7 or higher. Heavy rains will occur in the northern and the north central coasts.
Hagupit is forecast to move in a direction between west and west-northwest at 20 -25 km per hour during the next 24 hours. After passing through Leizhou, the typhoon will affect the Northeast.
On Thursday afternoon, the storm may reach the Viet Nam – China border area, and the area near the center of the storm will exceed force 10.
In an urgent message issued Tuesday evening to the authorities of the northern provinces of Quang Ninh, Lang Son, Cao Bang, Bac Kan, Thai Nguyen. Yen Bai, Lao Cai, Ha Giang and Tuyen Quang, as well as the Central Committee for Flood and Storm Prevention and Control, urges them to make plans for the evacuation of residents to safe locations and to prepare food and other essential goods to provide to remote and hard-to-access areas when needed.

The Committee also asked the Viet Nam Coal and Mineral Group to prepare plans for protecting coal and mineral exploitation sites in the northern provinces of Lao Cai, Yen Bai and Quang Ninh.
Earlier, the Ministry of Agriculture and Rural Development had a meeting with other ministries such as Natural Resources, Defense, and Transport and Communication to discuss measures to cope with the coming typhoon.
In a notice released on Tuesday, the Ministry of Transport and Communication requires relevant units to urgently evacuate tourists from the Northwest to safe places before Wednesday evening. The railway sector will try its best to facilitate the evacuation, the ministry said.
Vietnamese border guard forces and the authorities in the North and Central regions are providing news concerning the typhoon to more than 4,200 fishing boats at sea with over 31,000 fishermen on board.