Lao Cai province and some places in Northern provinces experienced several hours- heavy rain on April 27, caused flood.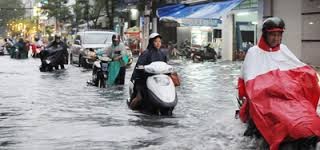 (Photo:SGGP)
The bad weather caused a worker working at Gia Phu Bridge across stream Bo unexpected was swept by the flood water.
Earlier, thunderstorm accompanied by hailstone swept through Bao Ha commune in Bao Yen district of Lao Cai province.
According to initial statistics, 32 houses were unroofed and three hectares of vegetables were destroyed by heavy rain. It is the second time that Northern provinces faces thunderstorm and hailstone at the beginning of 2014 so far.
On the same day, tornado and hailstone swept through Ngoc Dong Commune in Quang Uyen district of Cao Bang provinces caused heavy damages. Recent statistics showed that more than 306 houses were unroofed and hundreds of hectares of fresh vegetables were destroyed.
Heavy rain shouldered in the Northern provinces on April 26- 27. Particularly, Hanoi capital experienced heavy rain during several hours, caused inundate in many streets such as Lieu Giai, Phan Boi Chau, Tho Nhuom, Doi Can, Phan Ke Binh, Thai Ha, Dinh Cong, Pham Van Dong, Nguyen Xien, To Hieu and others.
Heavy rain accompanied by strong winds destroyed many trees in city, reported by the Central Hydrological and Meteorological Forecast Center.
Rain accompanied by thunderstorm also began to experience in the central provinces on April 28. The Central Highland provinces are also facing rain and hailstone in the evening.
While Southern provinces continue to face hot weather in the upcoming few days.