A hot low-pressure zone over East Asian is causing hot and muggy weather in the north, the mountainous area of Viet Bac and the northern midlands, said The National Center for Hydro-Meteorological Forecast.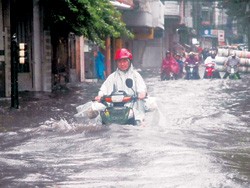 A heavy rain causes flood in Nguyen Thi Nho, District 11, Ho Chi Minh City on August 25.
The North has been experiencing scorching weather over the last few days with temperatures in most areas climbing to 35 – 36 degrees Celsius.
In the mountainous areas of Viet Bac and northern midlands temperatures have risen to above 37 degrees, such as Dinh Hoa and Bac Kan, the center said.
The center forecasted that the hot weather will continue over the next two days.
The weather has been somewhat different in the Central Highlands and the South, with heavy rains forecast to arrive over the next few days due to a southwesterly monsoon, the center reported.
In the coming days, the South will see mixed weather, with periods of sun in the morning and increasingly heavy rains in the afternoon and evening.
The center said that the weather will become more dangerous and also bring thunder storms to the region.