The National Meteorology Hydrology Forecast Center reported that the Northern provinces and the large area of northern flats suffered consecutive heavy rains yesterday.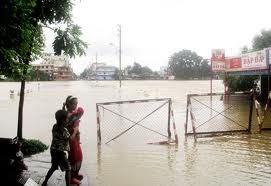 (Photo: SGGP)
Heavy rains have hit northwestern provinces with the rainfall of 50-70 mm in the previous days causing flood.
According to weather forecast, a flooding will occure on Hong, Thai Binh River branches from August 13-15. During the flooding season, water level is forecast to up to 10,000- 12,000 cubic metres per second.
Dealing with the bad weather situation, the Central Steering Committee for Flood and Storm Prevention and National Committee for Search and Rescue sent a message to Ministry of Trade and Industry, Vietnam Electricity Group, Hydropower Plant of Son La, Hoa Binh, Thac Ba and Tuyen Quang on Thursday.

After receiving the message, the Hydropower Plant of Son La and Hoa Binh implemented releasing the floodwater in the afternoon of August 13, aiming to ensure water level at water reservoirs.

In addition, an emergency message was sent to Northern provinces and two cities including Ha Noi and Hai Phong to ask local authorities and relevant units have to keep close watch with flooding and heavy rains.

At related weather news, currently, heavy rains and upstream floodwater hit in the northern, southern provinces, meanwhile, the central provinces are shouldered by heat waves.