While residents along the coast heaved a sigh of relief after Storm Soudeler weakened into a tropical low pressure zone, the northern region has been deluged by rains.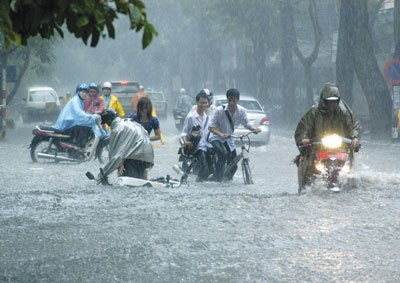 The Phan Boi Chau-Ly Thuong Kiet junction in Hanoi is submerged in water following heavy rains dumped by Storm Soudeler (Photo; SGGP)
Le Thanh Hai, deputy director the National Hydro Metrological Forecast Center said Hanoi and Vinh Phuc, Bac Ninh, Thai Binh, Ninh Binh, and Phu Tho Provinces received heavy rainfall, with Hanoi getting 100-120 mm and some other places 150 mm.
Some major streets in Hanoi like Nguyen Du, Ba Trieu, Tang Bat Ho, Nguyen Truong To, Nguyen Khuyen, Phung Hung, Quan Thanh, Ly Thuong Kiet, Phan Chu Trinh, Thuy Khue, and Linh Nam were flooded on July 13 with the water running at 20-30 cm despite the efforts of 200 workers from the Ha Noi Drainage Company who uncovered all manholes.
The flooding caused severe traffic jams.
In addition to downpours, strong winds knocked over dozens of trees, including at least 30 old ones on Giang Vo, Duong Thanh, Ly Thuong Kiet, Xuan Dieu, Dang Thai Mai, Trang Thi, Quang Trung, Thuy Khue, and Hoang Quoc Viet.
A tree in a house on Hang Tre Street fell in front of a taxi and a bus, and luckily there were no deaths or injuries.
The northern mountain province of Lao Cai experienced fog and heavy rains since afternoon, resulting in the death of a 28-year-old man, Nguyen Van Tan, who slipped into a river and was swept away while fishing.
The downpours and strong winds flattened three houses in Ban Ho commune in Sa Pa district, but they had already been evacuated.
Many roads in the central city of Da Nang were submerged under a meter of water, leaving traffic gridlocked and hundreds of motorbikes to break down.
Zuellig Pharma Vietnam Ltd donated 30,000 water purification tablets to the Ministry of Health for distribution in the flood-hit provinces of Cao Bang, Bac Kan, and Ha Giang.

Related article:
Heavy rains as storm makes landfall over northern Vietnam