The National Hydrology Meteorology Forecast Center reported that medium- heavy rains is going to expand into the north central, west central and northern delta region with the highest rainfall of 20- 50 mm today because of the powerful operation of southwestern monsoon from southward, new tropical low depression zone on the center of East Sea.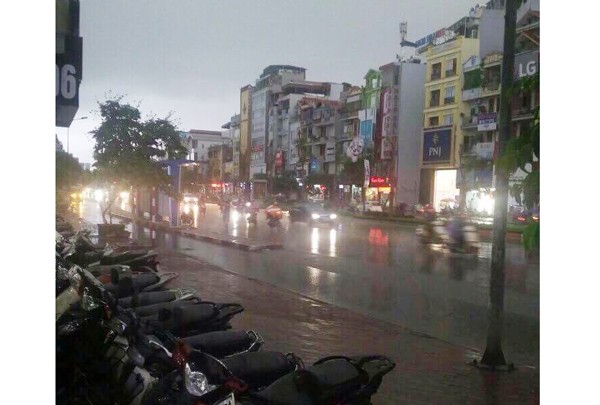 Heavy rain covers the southern region.
Serious landsides are alerted in Ha Giang, Lao Cai and Yen Bai provinces.
The weather situation in the southern territorial water of East Sea and offshore of territorial water from Binh Thuan to Ca Mau, Ca Mau- Kien Giang and Gulf of Tonkin, Spratly Islands will see uninterrupted powerful winds with speed of level 5- 8, big waves of 2- 3 meters and sea rough.
The strong operation of southwest monsoon may cause medium- heavy rains, lighting and thunderstorm on the large scale in the southern provinces and cities.
Today, the low is near 22-25 degree Celsius and high around 28-31 in the  west northern region. Air moisture is measured at 72- 98 percent.
Showery weather, thunderstorm, cyclone and strong wind are also anticipated in the northeast region and Hanoi capital. The highest temperature in the areas is around  29- 32 degrees Celsius, and the lowest temperature at 24 -27 degrees Celsius. The moisture reaches 70- 97 percent.
The northern central provinces from Thanh Hoa to Thua Thien- Hue are predicted suffering showery weather, thunderstorm, and southwest wind of level 2.
Meanwhile, the southern central provinces from Da Nang to Binh Thuan will see small- medium rains and thunderstorms at night and sunny weather at daytime. Its highest and lowest temperature is measured at 27- 30 degrees Celsius and 21-24 degrees Celsius respectively.
The weather condition in the southern region has experienced small- medium rains, thunderstorms and southwest wind of level 2- 3 in evening.