A tropical depression triggered by typhoon Hapugit is causing heavy rains and flooding in many northern provinces of Viet Nam with dozens killed, many more injured and reported missing.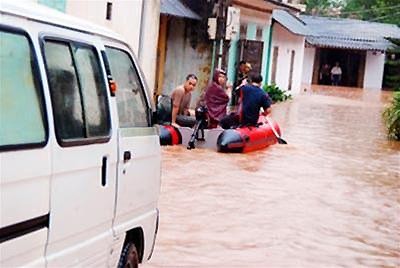 Torrential rains cause heavy flooding in Lang Son province (Photo: VNA)
Water levels on four rivers in Lang Son province: Ky Cung, Trung, Bac Giang and Bac Khe, rose to alarm level III on Friday evening, cutting off many areas and submerging hundreds of houses.
Due to the water rising fast and violently, rescue forces have been unable to reach certain areas in Lang Son including the mountainous district of Binh Gia, where many locals are awaiting evacuation.
As of Friday evening, five people have been killed and one gone missing in the province. Around 1,200 houses were flooded and eight collapsed.
Provincial authorities and relevant agencies have been taking urgent measures to evacuate hundreds of households to safer places.  
Six eastern districts in Quang Ninh province including Ba Che, Tien Yen, Dong Trieu have been submerged by flood waters.
In Tien Yen District, a deputy head of the local committee for flood and storm prevention and control was seriously injured while taking part in rescue activities. He later died on the way to hospital.
As of Friday night, 11 people have been killed and reported missing with eight injured in Son La town.
Nearly 1,600 houses, schools and health centers are inundated, collapsed, isolated or swept away by flood waters in Quang Ninh, of which Mai Chau district and Son La town suffered the most damages.
Flood waters also sank many principal routes in Son La, such as highways 6, 4G, 37, and 279.
In Bac Giang province, seven were killed and three injured by the flooding. Many districts, such as Son Dong, Luc Nam and Luc Ngan, have totally been isolated.
Meanwhile, relevant agencies in Bac Kan province have evacuated more than 160 households in many flooded districts to safe locations.
Thai Binh River's level rises fast, flash flood and landslide feared

The water level on the Thai Binh River has been on the rise and it is forecast to reach 6.5 meters in Phu Lang Thuong and 7.8 in Luc Nam on Saturday morning – 0.7 and 2 meters higher than alarm level III respectively. In Dap Cau the water level is predicted to rise to 5.8 meters and in Pha Lai 5.5 meters; both equivalent to alarm level III.

Due to torrential downpours and flooding, flash floods and landslides are likely to occur in mountainous areas and low-lying lands in the northern provinces of Lang Son, Thai Nguyen, Bac Giang, Bac Ninh, Cao Bang, Bac Kan and Ha Giang, warned the National Hydrometeorology Forcasting Center.