A cold front moved in northern Vietnam causing scattered rain in some northeastern provinces on Monday morning.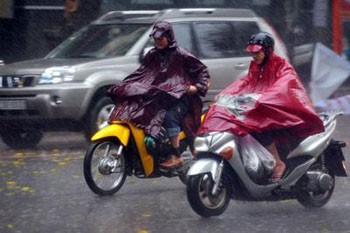 The northern region is dotted with rain as a cold front rolls in
The National Hydro Meteorological Forecasting Center said it would affect other provinces in the region, then to the northwestern and northern central areas.
Affected by the cold front, some portions in the northern region would continue seeing rain while the central provinces would have medium to heavy rains.
On the Gulf of Tonkin, the sea is forecast to turn rough with northeasterly winds up to 39-49 kilometers an hour. In the northern part of the East Sea, the winds are likely to be more powerful at category 7, 50-61 kilometers an hour.
In related news, an over 20 minute hail caused coffee beans falling in Thuan Hanh Commune, Dak Song District of the Central Highlands province of Dak Nong on Sunday afternoon, leaving hundred million dong in financial damage.
Meanwhile, the consecutive rain over the last few days also caused the fall of coffee beans in several other communes of the district, causing billion dong losses.