According to Bui Minh Tang, director of the National Hydro Meteorological Forecasting Center, the weather around the country will remain extremely pleasant during the public holidays of Hung Kings' death anniversary.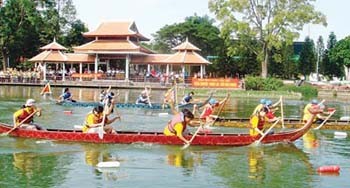 A boat race hosted at Dam Sen Park in HCMC to celebrate of Hung Kings' death anniversary (SGGP)
In the north, it will become warmer with only a few isolated places receiving mild showers or early morning and late night fog.
In Phu Tho Province, a host of activities to celebrate the Hung Kings' anniversary on lunar March 10 (April 12 this year) will experience daytime temperatures of around 20-26 degree Celsius.
While temperatures in the central region will swing between 23 to 29 degrees during the holidays, the weather will remain hotter in the southern region. From tomorrow onwards, temperatures will increase another one degree each day to peak at 35-36 degrees in several areas.
During the next three to four days, the sea weather will remain calm, creating conducive environment for those wanting to visit the Phu Quoc Islands and other tourist destinations at sea.