Damrey made landfall in the south part of the central and central highlands region; and it directly impacted in provinces of Binh Dinh, Phu Yen and Khanh Hoa.

In recent days, heavy to heavy rains have shouldered over the provinces from Quang Tri to Binh Thuan and the central highlands provinces.
Total rainfall in some stations from Thua Thien- Hue to Phu Yen and Gia Lai was measured at 500- 600 mm, even up to over 700 mm in Quang Nam and Binh Dinh, causing serious flooding in lowlands and riversides.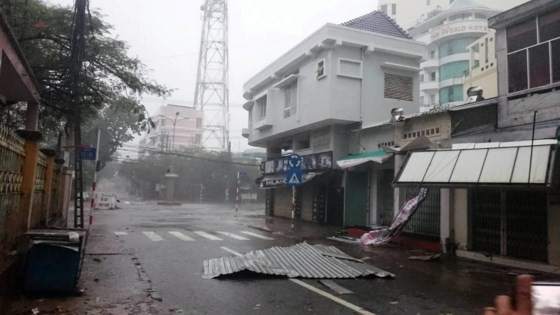 Damages after typhoon Damrey
Presently, flood- level in rivers from Quang Binh to Quang Nam and the south part of Central Highlands is rapidly rising; in particular, water level on Bo River is expected to be approximate the peak of the historical flood in 1999 while flood level on Thu Bon is predicted to reach the historical flood peak in 2007.
In order to keenly cope with the natural disaster, quickly overcome consequences of typhoon Damrey as well as help local people to early stabilize their life and production, PM Nguyen Xuan Phuc required the central and central highlands provinces, especially Thua Thien- Hue, Quang Nam, Quang Ngai, Binh Dinh and Da Nang city to closely eye the current complicated weather news, timely carry out urgent measures dealing with the downpours and flash floods.
In order to ensure absolute safety for peoples' lives and properties, the localities need to collaborate with functional forces to move households out of the dangerous isolated areas, lowlands and riversides by landslide and flooding; needed to update and adopt anti- flooding solutions in urban areas, especially the coastal city of Da Nang where the Asia- pacific Economic Cooperation (APEC) summit is taking place next week, the PM said.
PM Nguyen Xuan Phuc also asked the typhoon- hit- localities as Binh Dinh, Phu Yen and Khanh Hoa to continue seeking missing victims in the territorial waters of Quy Nhon and Binh Dinh as well as to provide food sources for local people in isolated areas.
The leader directed the Ministry of Agriculture and Rural Development to check and protect dyke systems, irrigation constructions and hydropower reservoirs in case of water release; and asked the Ministry of Transport to continue seeking missing victims, picking up sunken ships and re-exploiting traffic on National Highway 1 and the North- South Railway.
Tags: