After a long-lasting dry spell that parched hundreds of hectares of rice fields in many parts of the central region, including Da Nang City and Quang Nam Province, the heavy downpour on Friday brought about much needed relief to the area.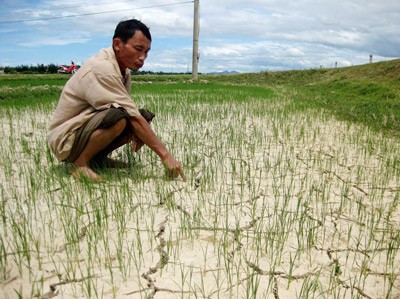 Parched rice fields salvaged by heavy rainfall on August 3 (Photo: SGGP)
According to the Hydro Meteorological Station in mid central region, this is the fourth rainfall since the beginning of the year.
The much needed rainfall lasted for more than an hour and helped raise water levels in depleting rivers, springs and ponds. Salinity in the larger rivers like Vu Gia and Thu Bon in Quang Nam Province and Han River in Da Nang City was greatly reduced.
Huynh Van Thang, deputy director of the Department of Agriculture and Rural Development in Da Nang City, said that the rain provided the necessary relief for the summer-autumn rice crop in the central region.
Meanwhile, scorching weather will continue today, August 4, in the northern region and is likely to become more severe and widespread. Temperatures will increase to 35-37 degrees Celsius or above in places, in the next one to two days.
 
Southwesterly winds will continue to affect the southern region causing cloudy and rainy weather across wider areas. Local residents have been cautioned against more cyclones.
The southern part of the East Sea is experiencing strong winds and heavy rainfall, causing a threat to boats still out at sea.
Related article:
Central region reeling under drought, parched conditions