Heavy rain with the 65 mm rainfall flooded out in the areas of Ho Chi Minh City on November 23.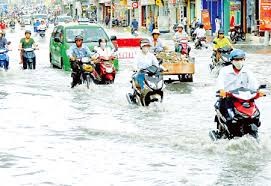 (Photo:SGGP)
The water level was measured at 10-30 cm in main roads of districts 6, 11, Tan Phu and Binh Tan of An Duong Vuong, Phan Anh, Lac Long Quan, Tran Hung Dao, Ton That Hiep, Kinh Duong Vuong.
However, the water level will continue to increase and be alerted over level 3 at the drain systems in Ho Chi Minh City in the upcoming days. Particularly, the flood level is predicted to be measured over 1, 52 meters at Saigon River's Phu An station and Dong Tien canal's Nha Be station on November 25, reported by the Hydro Meteorological Station in the Southern Region.
The Standing Steering Committee of Flood and Storm Control, Search and Rescue of Ho Chi Minh City suggested local authorities, relevant departments and units should issue measures to instruct residents to cope with the flooding.