Super Typhoon Rammasun with the strongest wind speeds of level 14-15 has experienced coastal provinces of Hai Phong, Quang Ninh on July 19, reported by the National Meteorology Hydrology Forecast Center.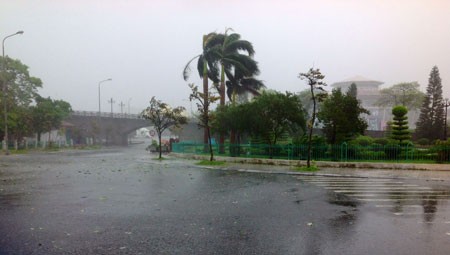 Heavy rains shouldered Mong Cai city (Quang Ninh province) (Photo: SGGP)
By 4am on Saturday, Mong Cai city where was located near the center of the storm, affected by strong winds and heavy rain due to the influence of the typhoon.
The local authorities said that nobody and vehicles went out the streets to avoid the typhoon. Local shops, restaurants and supermarkets stopped working, according to the latest news source from reporters of Saigon Giai Phong Newspaper.
To deal with the storm, local authorities in collaboration with army forces moved more than 2, 000 households, children to safe places like border posts, cultural houses, schools before the storm Rammasun lands in.
Thousands of fish cages at Vinh Trung, Tra Co, Hai Hoa and Van Ninh communes were taken to safe places.
Lieutenant Colonel Trinh Van Co, Head of Hai Hoa border station said that volunteers and soldiers always check the storm's direction in the previous days in order to give as soon as instructions.
Leaders of Mong Cai city said that over 120 children and residents were moved to safe places and given foods and drinks by 1:30 am yesterday.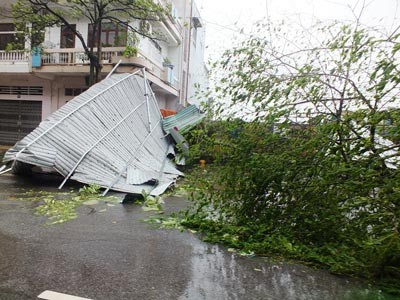 The strong wind blew up house roofs (Photo: SGGP)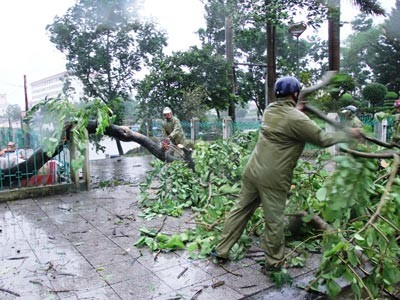 The storm blew up hundreds of uprooted trees (Photo: SGGP)
The storm blew up 19 house roofs and hundreds of uprooted trees. Hectares of rice crops and 13 houses destroyed completely. Whole of electricity systems were cut down. However, no one was injured or killed by typhoon, said Pham Minh Chinh, Secretary of Quang Ninh Party Committee.
Earlier, Minister of Agriculture and Rural Development Cao Duc Phat required local authorities of Quang Ninh province and relevant agencies continue to closely monitor weather situations.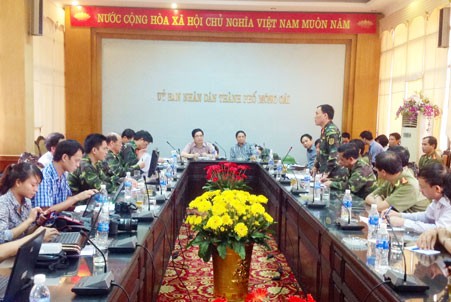 A meeting on the Rammasun storm (Photo: SGGP)
Talking with the reporters, Vice Director of the National Meteorology Hydrology Forecast Center Le Thanh Hai said that Rammasun will continue approaching northern mountain provinces including Ha Giang, Tuyen Quang, Yen Bai, Lao Cai and Lai Chau and cause heavy rains in the time ahead.
On July 19, the storm caused heavy rains in the Northern provinces in a wide areas with the rainfall of 100-150 mm.
Currently, flood water on the Ka Long River (Mong Cai) rises up. It is expected that a large flooding will occur on the Northern provinces' rivers, reported by the National Meteorology Hydrology Forecast Center.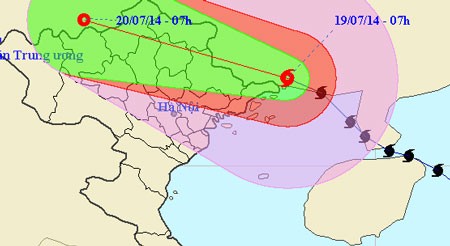 The Rammasun storm's direction on July 19 (Photo: SGGP)