The northern and central provinces of Vietnam are troubled with the uninterrupted cold spell, causing damage to ornamental plants, seasonal flowers, animals and cattle during the recent days.
By January 27, the temperature in the northern and central regions increased slightly; however, the damaged cold is forecast to return at the weekend.
At present, local authorities quickly plan to help local residents overcome damages caused by the ice and freezing cold.
As many as buffaloes, cows and cattle in the communes of Ta Phin, Ta Van, San Sa Ho and Sa Pa had been frozen to death due to the cold weather.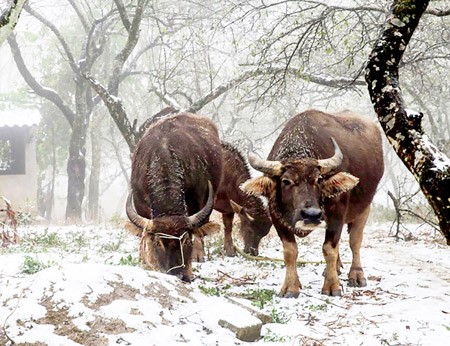 Buffaloes face to the extremely cold weather.
Around 2, 000 travelers have flocked to Sa Pa town in Lao Cai to see snowfall phenomenon, causing a several-hour traffic jam on National Highway 4D from Sa Pa to neighboring Lai Chau province in previous days. The number of buffaloes, cattle, big and sheep which were died due to the damaged cold reported higher than the previous years".
According to the Central Steering Committee of Natural Disaster Prevent in 14 provinces of the northern and north central region, there were 4, 000 cattle died due to damaged cold, including 686 cattle in Son La, 410 cattle in Lao Cai, 571 cattle in Lang Son, 300 buffaloes, horses and pig in Cao Bang, Nghe An, Dien Bien.
Around 4, 473 hectares of seasonal flower and vegetable crops, 217 short-day plants and 151, 842 hectares of forest were frozen by snow.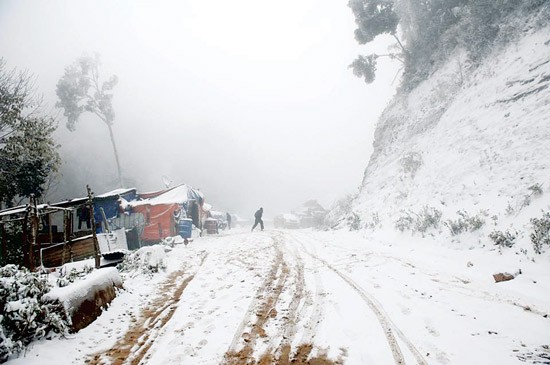 Ice and freezing cover over Y Ty commune, Bat Xat district, Lao Cai.
In Sa Pa mountainous district of Lao Cai, ice and freezing cold covered 250 hectares of vegetable crops in ten communes, with an estimated damage of VND 2, 8 billion; meanwhile, the damage of died livestock  estimated at VND 8, 195 billion.
According to Vice director of the National Hydrology Meteorology Forecast Center Le Thanh Hai, the extremely damage cold is forecast to return in the mountain provinces in the upcoming days.
Dealing with the bad weather, Deputy Head of the Animal Husbandry Department Tong Xuan Chinh reported that the department not only has supported farmers to overcome damages but also instruct measures to ensure enough foods for the cattle, and warming up breeding farms.
Moreover, Head of the Plant Cultivation Department Ma Quang Trung suggested local authorities and enterprises supported seeds, foods and drugs for farmers.
Currently, residents are moving buffaloes and cows to warmer places to avoid the upcoming damaged cold. Around 12, 033 buffaloes and horses were moved to safer places, said Chairman of the Sa Pa People's Committee Vu Hung Dung.