Temperatures continued to plunge in the central and northern regions from a lingering cold spell for the last two days across most of north Thua Thien-Hue Province.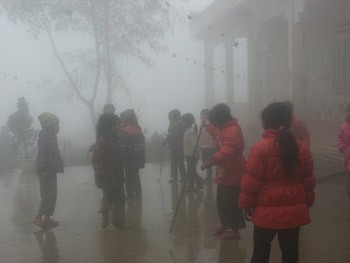 Students shiver in 3 degree Celsius in Bat Xat District of Lao Cai Province (Photo: Thanh Nien)
The National Hydro Meteorological Forecasting Center said that temperatures dropped to 4-6 degrees Celsius in the northern mountainous provinces of Son La, Lao Cai, Ha Giang and Cao Bang, while Sa Pa District faced 1.7-2 degrees.
However, it is expected to turn a bit warmer today and tomorrow with some places even experiencing sunshine during mid-day. This relief won't last long as by Thursday another cold front is set to slam the northern region.
Rainy conditions will prevail in several areas of the central region from Tuesday to Thursday.
The cold spell in the north has made its effect also felt in Ho Chi Minh City and the southern regions for the last few days, with mercury dropping to 19 degrees early morning, though warming to 30 degrees by noon.
Department of Livestock has asked all departments of agriculture and rural development in different provinces affected by the cold front to implement measures to protect cattle from dying of the cold.
Persistent cold weather conditions over a long duration have seen a surge in the numbers of child and elderly patients in Hanoi hospitals.
The numbers of child patients have hiked by 50 percent causing overloading at the pediatric ward in Bach Mai Hospital.
Meanwhile, the National Hospital of Pediatrics has been receiving over 1,500 children each day for health checks and cold related ailments.
Other hospitals like Saint Paul, Thanh Nhan, Ha Dong and Bac Thang Long also recorded an increase of child and elderly patients by 40 percent over normal days.
Children have been suffering from fever, respiratory conditions and diarrhea while the elderly are being treated for blood pressure, cardiovascular conditions, asthma and bronchitis.