After one week of cool weather and widespread heavy rain due to Tropical Storm 'Bebinca', once again scorching heat is back in the Central Region and expected to last several days.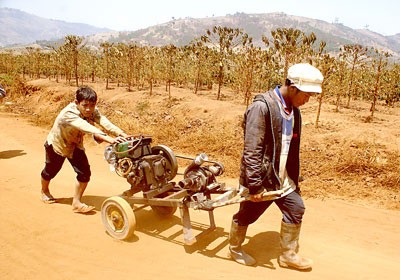 Farmers carry a water pump to irrigate coffee plants in Lam Dong Province in the Central Highlands (Photo: SGGP)
According to the National Hydro Meteorological Forecasting Center, coastal areas in the mid-central region are currently facing hot and dry winds.
Temperatures have reached 35-37 degrees celsius in Quang Nam, Quang Ngai and Phu Yen Provinces.
The scorching heat is expected to spread across the north-central provinces and parts of the northern region. Mercury will rise by 1-3 degrees and in some places will be around 38-39 degrees.
This hot and muggy weather will last until July 4.
Provinces in the southern region and the Central Highlands are still being affected by southwesterly winds, with sunny weather in daytime and showers by late afternoon and night time.
Average temperatures will be around 30-33 degrees celsius in the Central Highlands and 31-34 degrees in the southern region.